This time we went to Poříčí u Litomyšle, where there is a beautiful western ranch Coldriver. We were welcomed by a nice family engaged in horse breeding, stabling, training and other related activities. The horses and the relatively large farm with several electric fences gave the ranch owner, Eman Hanyk, the idea of getting a smart electric fence to simplify his daily routine on the ranch. Not surprisingly, the benefit of remotely controlled electric fence energizer and insight into the operation of the entire electric fencing can no longer be overlooked in today's modern world.
A few words about the ranch
The first horse and construction of the first horse enclosure date back to 1999. Already the following year there were five horses, prompting Mr. Hanyk to build the first electric fence. Eventually, the herd grew to 20 horses. The search for more pasture and land began, mostly in remote and overgrown places. The first problems with the electric fencing appeared - weak performance of fence energizers, overgrown electric fences and reports from villagers of repeated horse escapes. The original 1.5 hectares became a total of 10 hectares of different plots. These were mostly overgrown hillsides, meadows and gardens where native flora, plants and greenery had returned due to horse grazing. Over time, uneconomic horses were sold, leaving brood mares, pedigree stallions, the original female horse and stabling horses. The ranch grounds also serve as a horse wintering area. Learn more about Coldriver Ranch, its facilities and the activities offered. More information and photos of the ranch can be found on the Coldriver Ranch Facebook page.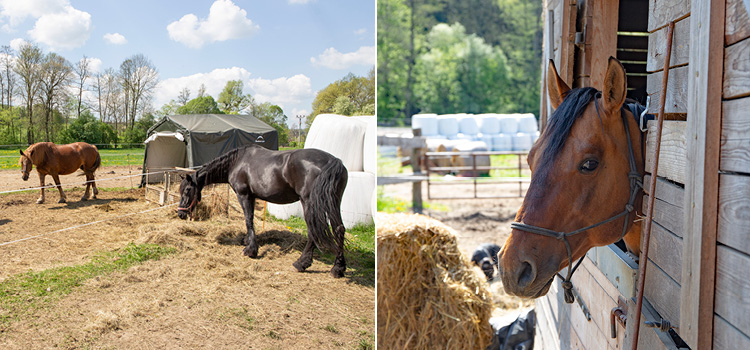 Main reasons to get a Smart electric fencing
There are several benefits that come with a Smart Farm system with fencee Cloud app. Constant research into the requirements and needs of electric fence users and our customers shows us that for many, the most valued benefit is the remote control of the fence with a mobile phone. For those who consider the highest possible safety of the electric fence with their animals and want to be informed about everything that is happening or has happened to the fence, the fence parameters traceability and the online monitoring of the fence 24/7 are beneficial. Especially for larger companies, the possibility of central remote control and monitoring of all electric fences spread over a large area is advantageous. By downloading the free app on Google play or the App Store, each user gets a whole package of practical features that make controlling and monitoring the fence a breeze. The entire Smart Farm system works without any additional operating costs or fees.
Less worry and troubles
Probably like every breeder of these beautiful animals, the Hanyk family loves their horses. So awareness that the electric fence keeping the animals in a safe space is working correctly is priceless. "Knowing the fence is kicking, it's half the worry." says Mr. Eman Hanyk with a smile.
"Thanks to smart electric fencing, we have fewer worries. We have peace of mind because we know that the fence is working correctly. In the event of a lack of performance or an unexpected malfunction, we are informed by a warning alert in the mobile app."
Warning alert notifications
When asked how Smart Farm system help in a normal day, the first to respond is Ms. Kateřina Hanyková, who says: " Last time we were just sitting in the garden when we suddenly got an alert that our electric fence was not working. As soon as we arrived, we noticed the gate was disconnected." The alert notifications go to mobile phones and emails, as well as to a handy remote controller in the form of a loud beep. Alert on damaged fence
"Previously, when our horses ran away due to a malfunctioning electric fence, our neighbours would call us to tell us that horses were wandering around the village. In the better case scenario, the horses made it to the ranch on their own."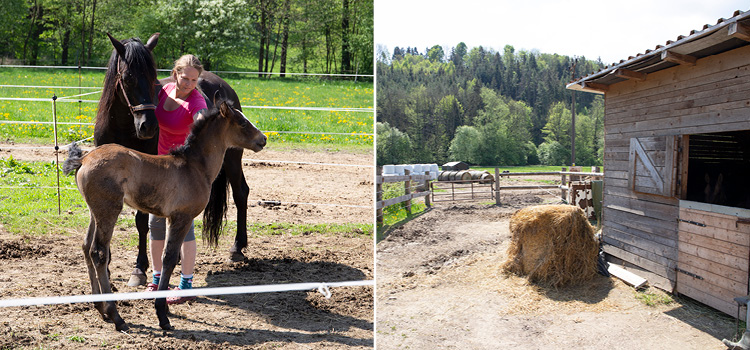 For those who want to get the most out of the fencee Cloud app, there is also a PC version that provides the ability to record fences in maps bases and create virtual fences. The fencee Smart products can also be shared with other members, granting them rights to control certain features. For example, prohibit brigade members from changing the voltage value at which an alarm is triggered. access rights to device, map bases and virtual fences
Remote control
Working and maintaining several electric fences costs a family quite a bit of effort. Making this mundane activity more enjoyable with efficient remote fence control offers itself as a very practical tool that saves time, money and effort for anyone working with electric fencing.
"Controlling the fence with a mobile phone is a great gadget. You only realize it when you try it yourself. With one click I can switch off the power whenever I want. Before, Junior had to help with this and always ran to switch off the energizer with a button."
Remote control, along with online information about electric fencing are essential features of the Smart Farm system that make it possible to gain significant time savings every day. The time gained is used by the Hanyks to improve conditions on the ranch and, of course, to care for their beloved horses. Life with Smart Farm
Battery status report
Information about the condition of battery that powers the portable energizer in remote pastures can be quickly and easily checked in the fencee Cloud app or on the remote controller display included with the power DUO RF PDX series energizers. This is quite vital information that makes the electric fence safer, without any outages and can help, for example, in planning the day efficiently.
"When I go to the horses with water I look in the app to see the level of energizer battery. I take a charged one straight away if I need it and don't have to go back for it later."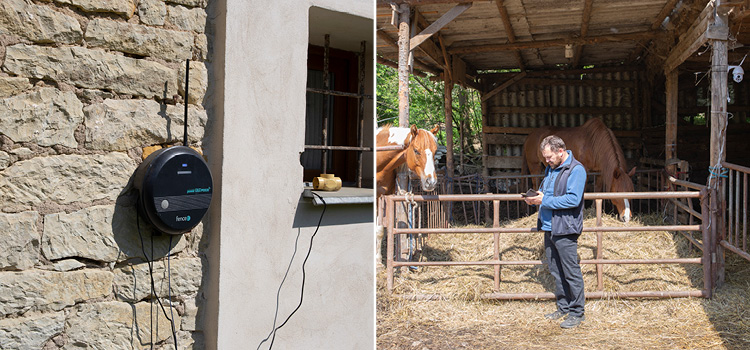 Electric fence for horses
The horse electric fence at the ranch, made up of several sections of polyrope for electric fence, spans a fairly large area and extends to the riverbank. It is powered by a Smart electric fence energizer with an output power of 5 J. It consists mainly of wooden or recycled plastic posts, then also plastic posts and there is also an electric net for the horses. Usually two rows of polytape pulled in several types of electric fence insulators are the usual choice of wires for horse fences. Stalls, boxes and several wooden shelters also serve as wintering areas for horses.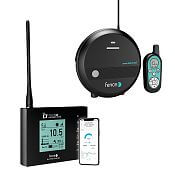 Smart RF energizers with central Gateway
The entire electric fence is powered by one smart energizer power DUO RF PDX50 with 5 J. The energizer is switched to half power most of the time, only in case of time slips and not keeping up with cutting the vegetation under the wires is the power switched to 100%, with just a click in the app. The fence energizer is mounted on the wall of the house and attached with a handy DIN rail. It is under the constant influence of weather and sunlight. According to Mr. Hanyk, the energizer is completely trouble-free and reliable throughout its use. He also praises a second, portable energizer power DUO RF PDX30 with a 3 J output, which they use as needed in remote horse pastures regardless of heavy rains, thunderstorms, curious forest animals and rodents.
The central device FENCE WiFi GATEWAY GW100 which is connected to the internet is located in the study inside the house. With a cloud-based solution and RF technology used to communicate between Smart RF devices fencee connected to the fence, the electric fence can be monitored and controlled in real-time from anywhere you want or need. This is done using the fencee Cloud app, which is free to download for both mobile phone and tablet, as well as for PC in the form of a web browser. The entire Smart Farm system works completely free of charge.
Functions and features of the Smart Farm in the video


Watch a web presentation dedicated to our unique system for remote control and online monitoring of electric fences. Modern Smart Farm website
See also other Case Studies
If you are thinking about purchasing Smart Farm and would like to get the benefits of a fencee smart electric fence, don't hesitate to contact us. We will be happy to answer any questions and be at your disposal.
A few photos from the ranch